Support Mo and Dian Morris
Anyone who has been or still is involved in, the wonderful world of showing Arabian horses, is very familiar with the names Mo and Dian Morris. Everyone knows, loves, and has a saddle full of wonderful stories and memories to share about this dynamic duo.
Mo, coming out of the British Royal Navy and falling in love with the states, eventually settled in Washington where he began his riding career working for Dolly Milne and her Morgans. This is where Dian initially met Mo. From there, Mo went to work for Al Erickson at Skyline Arena, eventually moving on to work for Dr. and Mrs. Kale, where he was introduced to the wonderful Arabian horse. Broadening his horizons, Mo eventually moved on to opening his own business, Woodview Stables.
Dian's devotion to horses began as a child while living in Seattle where she frequented a neighborhood stable. Dian worked on her own until the relationship formed between she and Mo, where they joined businesses at Woodview and the two continued to successfully show and train Arabians. Selling Woodview after finding their future building site in Silvana, Washington, their business continued to flourish.
Among the many accolades given to this strong partnership was the training and showing of Khemosabi, Silver Scion, Khat, Khattin' Around, Silver Drift, Nariadni, Muscat and Dornaba to name a few. Many current trainers got their start thanks to this wonderful couple. In addition, Mo became a well respected and sought after judge, judging not only the U.S. Nationals, but around the globe as well. Today, their business is still going strong based out of Marysville, Washington, at the Eagle Mountain Stables with a full calendar of riding lessons and training horses. Their dedication to the horse world continues to be second to none.
In November of 2012, Dian was diagnosed with Non-Hodgkin's Lymphoma. Over the course of the next month, other existing health conditions made conventional cancer treatments impossible, and as of last week, Dian has moved to the care of a Bothell Washington Hospice, where she is receiving the utmost in care to ensure her comfort.
Mo and Dian are private people when it comes to their personal lives, and initially elected not to share what was happening except with family. However, one word said to a fellow horse person spread the word, and so many people have reached out that a site has been set up on Caring Bridge to keep friends up to date, and more importantly, to give people an opportunity to post their love and support for both Dian and Mo. Bonnie Pemble, the couples daughter in-law, assures us that your messages of love and support will be shared, read, and treasured by them both. Go to www.Caringbridge.com and type in Dian Morris.
If you would like to make a donation earmarked towards the Morris', you can go to www.horsemensdistressfund.com and pay on line, or send a check to,
236 Henry Sanford Road, Bridgewater, CT 06752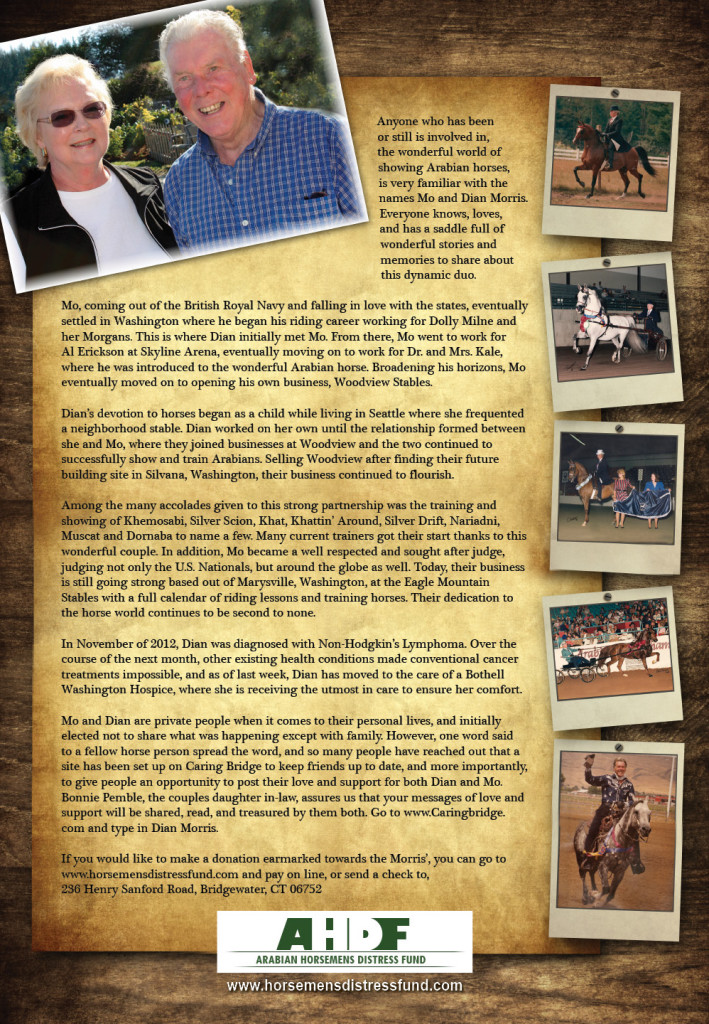 Comments

Hello Dian and Mo,

Just heard about what you're going through last night from Suzanne's friend, Kris Kobernik. We are so sorry to hear of your problem and just want you to know that we're sending our love, and let you know that you are in our prayers. I will always remember our friendship and all of the good times we had together. Let's get together and have some more.

Love . . . Glenn and Suz

Glenn and Suzanne Tissue

Dian and Mo

Sandi and I miss you! We're so sorry to hear about your predicament. Please know that you're in our thoughts and prayers, and hoping for better times ahead. We love you guys! (And I'm sure that if Bo and Lacey could talk, they'd say "ditto!") You guys take care. We're thinkin' about ya.

Laurie
(and Sandi too – I just have to let her know about this website
Leave a comment